Alliant is among the first companies to be verified under the IAB Tech Lab's Data Transparency Standard! The Data Label program gives data buyers tools and insights to provide confidence they're getting what is advertised in an audience segment. While any data provider can adopt the standard, organizations that achieve certification through the compliance program affirm their full commitment to the highest standards of audience data transparency. With a deep history of building solutions, systems and teams that operate with the highest standards of data compliance and transparency, Alliant seized the opportunity to be included in the first round of audited companies, confident in our ability to gain certification.
The certification process is a part of the IAB Tech Lab's Compliance Program, an annual engagement that allow companies to earn credibility for adhering to a set of global industry standards in digital advertising and the marketing supply chain. In particular, the Data Transparency compliance program affirms that a data provider is meeting the minimum disclosure requirements to be a transparent data provider. "Alliant has always held high-standards for delivering quality data via ethical practices" said Donna Hamilton, Alliant's SVP of Data Activation & Acquisition. "We were thrilled to see the IAB Tech Lab taking the lead in establishing similar standards for the industry, and that we now have a way to externally validate our audience development."
Alliant spent several months working with the IAB Tech Lab and an independent 3rd party, diving deep into Alliant's systems, processes, and personnel. The certification confirms that Alliant is meeting the disclosure requirements and that the information provided within the disclosures is reliable. Additionally, we proved that we can sustain consistent segment labelling at scale, and that disclosures can be produced for all available segments.
What does this all mean for data buyers? The standard outlines information about data recency, collection, processing, and modeling that inform data quality and applicability (regardless of buyer use case). Buyers of certified data from providers like Alliant can feel more confident than ever that the segments they activate exactly match what is described. In the coming months, buyers will be able to access information presented similarly to a nutrition label, providing everyone with a clear view of what's inside the audiences they use. Ultimately, the goal is to help buyers make more informed decisions.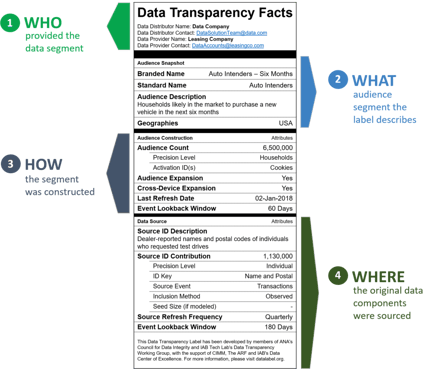 "The data marketplace can be overwhelming to navigate for brands and their agencies" said Matt Frattaroli, Alliant's VP of Digital Platform & Agency Partnerships. "The new data transparency standards will help us all address the necessary baseline questions and focus on the strategic opportunities of our partnerships." More information on Alliant Audiences can be found on the IAB Tech Lab's compliant companies page, Alliant's website, Datalabel.org (launching soon), and participating data marketplaces.
A solid audience strategy is foundational to any marketing campaign, whether that is through programmatic, addressable TV, or direct mail, and you deserve to know as much as possible about your data investment. Alliant looks forward to a continued partnership with IAB Tech Lab and continuing to maintain these high data transparency standards. Visit our data governance page for more information about Alliant's commitment to data security, compliance and transparency, or contact the Help Desk for immediate audience assistance.